Protect your property, and make it look as good as new at the same time. Desantis Home Improvement Products in Scranton, Pennsylvania, offers a wide variety of home improvement products for your home or business.
Canvas Awnings
Customize our awnings to meet your needs, including awning graphics for your business, and shade to your home in a variety of styles including:
• Door Hoods
• Steel Stitch Awnings
• Window Awnings
• Back-lit Awnings • Drop Curtains
• Patio Covers
• Porch Awnings
• Retractable/Manual or Motorized
Sunbrella® acrylic awnings are available in a variety of colors and patterns. Visit Sunbrella for some of the available options.
Aluminum Awnings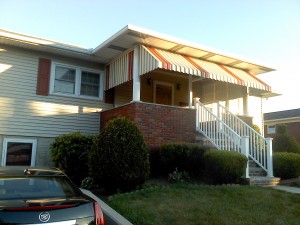 For year round protection against the elements choose from our different styles including:
• Porch Awnings
• Window Awnings
• Patio Awnings • Door Hood Awnings
• Casement Window Awnings
Patio Covers

• .032 Grade Aluminum Pan Structures Built To Last • 8″ Flat Pan
• 16″ W – Pan
• 3″, 4″, or 6″ Foam Filled Roof Systems • Surround Gutter Systems
Carports
If you simply want to keep your car covered, choose from freestanding or attached carports in steel or aluminum. These have a load factor of 40 pounds per square foot, to stand up to tough winters.
Railings
Check out our selection of iron, aluminum, and vinyl railings. Aluminum, and wrought iron railings are available in a variety of design options, including fabricated security bars for your windows. These railings come in a durable powder coated finish.
Kroy® vinyl railings can be fitted to your specific needs. These railings have an aluminum core for stability and strength, and they come in white, khaki, tan, and slate. Vinyl fences are available in 6-foot privacy models and 4-foot picket fences. Visit Kroy online for all they have to offer.
Windows
Our vinyl replacement windows are manufactured by Ply Gem® and Viwinco®. Have your home or business fitted with a variety of styles including:
• Double-Hung
• Casement
• Awning • Sliders
• Bay & Bow Windows • Picture
• Basement Hoppers
Radiator Enclosures

Kustom Radiator Enclosures are fabricated from heavy 22 gauge electrogalvanized steel, with a perforated grille front to direct the heat to the "living area" providing an increase in the heating efficiency of the radiator.
Available in over 300 stock sizes for the best fit for your application
Kustom Enclosures come unfinished, ready-to-paint for the best value for your money.   You can match exact colors to your rooms for a built-in look.
Attractive mitered corners — safer than sharp corners, and more attractive than rounded
The enclosures are shipped individually, and knocked-down, easily assembled with (included) hardware.
Flagpoles and Flags
Count on us for everything from 10-foot plastic flagpoles to 35-foot aluminum poles, as well as replacement flags of all types. Tell us what you need, and we will find it for you.
Radiator Enclosures
For the best in radiator enclosures, let us install primed Rand® enclosures, to add beauty and heat efficiency to you home.
Contact us to schedule an appointment for a free estimate.